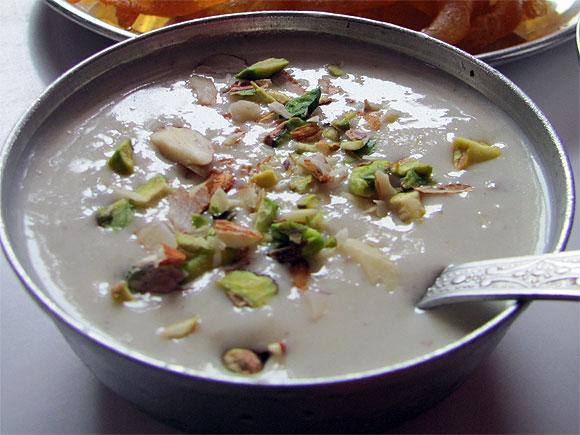 Ingredients:
1 litre milk
4 tbsp milk powder
4 sachets sugar free
8-10 roasted almond, sliced into pieces
8-10 roasted pistachios, sliced into pieces
8-10 roasted cashew, sliced only in half
8-10 raisins
Pinch saffron or kesar
An earthen pot or matka
Method:
Put the milk for boiling in a pot. Add milk powder to the milk while it is boiling. Stir continuously.
Add the sugar free sachets. Keep stirring continuously.
Take the saffron in a small bowl and add two teaspoons of milk. Stir it and heat the bowl in microwave for just a few seconds. Transfer this warm solution to the boiling milk.
Keep stirring continuously till the milk reduces in content to less than half (you will generally find the a change in the viscosity or flow the of milk).
Transfer the content to an earthen pot/bowl/matka. Add sliced almonds, pistachios, cashew and raisin to it and allow it to cool for a while and then refrigerate.
You can use a regular bowl instead of a matka but using a matka will help remove the excess water and the end result is thick, tempting and mouth watering Panch Ratna Rabdi.